Vietnam Raymond mill for Apatite
2019-01-08 10:34
What is apatite?
Apatite refers to a phosphorus-bearing ore in which phosphorus is present in igneous and metamorphic rocks in the form of crystalline apatite. It is a general term for a series of calcium-containing phosphate minerals. Apatite is the most important mineral raw material for the manufacture of phosphate fertilizer and phosphorus and its compounds. The most common apatite is fluoroapatite. In addition to the fluoroapatite, there are chloroapatite, hydroxyapatite, etc., depending on the addition anion. The shape of the apatite is glassy crystal, block or tuberculosis, and the color is various, and it is mostly a hexagonal column with a tapered surface.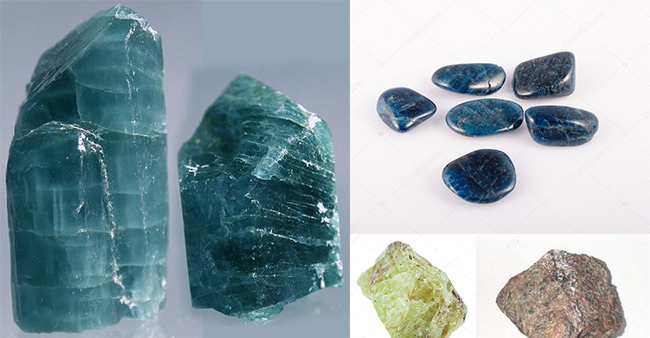 Where can apatite apply in?
Apatite is an important raw material for extracting phosphorus and manufacturing agricultural phosphate fertilizer. Apatite with good color and crystal quality can be used as a gemstone or decorative material. Apatite with many associated elements can be comprehensively utilized. It is the main inorganic substance in the human and animal hardware (tooth, bone, stone) and an important biological material.
Phosphates include normal phosphate salts and acid salts. Apatite is an important mineral for the extraction of phosphorus, of which fluoroapatite is the most important mineral in the market.
Raymond mill for apatite
A whole 30-425 mesh Raymond mill grinding production line includes hammer jaw crusher, bucket elevator, hopper, screw feeder, grinder unit, classifier, powder colllector, dust cleaner, discharging screw convey & valve, blower, muffler, air compressor, electrical control cabinet.
Big materials are crushed by jaw crusher to the required particle sizes, and carried by bucket elevator to the storage hopper, and are fed evenly and continuously by vibrating feeder into the main unit for grinding. The grinded powder are carried by the airflow from the blower to the classifier to be classified, the particles which meet the fineness enter cyclone collector through pipe, and are separated and collected there. They are discharged at the discharging valve to become finished products; the airflow is sucked to the blower by return pipe on the top of cyclone collector. The whole airflow system is a sealed circulation, and is circulated under positive and negative air pressure.