Indian Client Requires for Gypsum Raymond Mill
2018-11-27 13:52
Date: November 26th, 2018
Our clients: Indian
Raw material: gypsum, Mohs=2.5-3 grade
Input size: 50 mm
Output size: 200 mesh
Capacity: 20 tons per hour
Recommended machine: Raymond mill
Gypsum
The main component of raw gypsum is hydrated calcium sulfate. In addition, it contains some silicic acid, aluminium hydroxide, sulfide and trace metal elements.
Gypsum has high medicinal value. The main component of calcined gypsum is dehydrated calcium sulfate. Through the action of human gastric acid, it will be partially converted into soluble calcium salts, and then absorbed into the blood by the intestinal tract, thereby increasing the concentration of calcium ions in the serum. In this way, the excitability of skeletal muscle can be reduced, and the permeability of blood vessels can be reduced, so as to achieve antipyretic and anti-inflammatory effects.
Gypsum powder grinding
First of all, we must make sure that gypsum must be calcined before it is ground to powder. Gypsum raw material is conveyed to calciner by feeder. Under the action of mechanical dispersing force and hot air, the gypsum material is dehydrated along the rotating route. Then, the dehydrated gypsum is discharged through the outlet.
The drying methods of gypsum are mainly divided into the following. The first is air drying. This method usually uses hot flue gas to contact with materials directly, which has high thermal efficiency and low energy consumption. But it will pollute the material to a certain extent. The second is to use rotary kiln. This method usually uses flue gas or heat conducting oil as heating medium, but the thermal efficiency is not high, the material is easy to stick to the cylinder wall. The calcination of gypsum can be divided into fast calcination and slow calcination. Rapid calcination has great limitations. The properties of the material after calcination are unstable.
Gypsum after calcination and dust removal can be ground by gypsum grinder.
In this case, we recommend the Gypsum Raymond Mill to the Indian client.
Raymond mill is one of the representative ore grinding machines of our company. Let us look at its main processing line.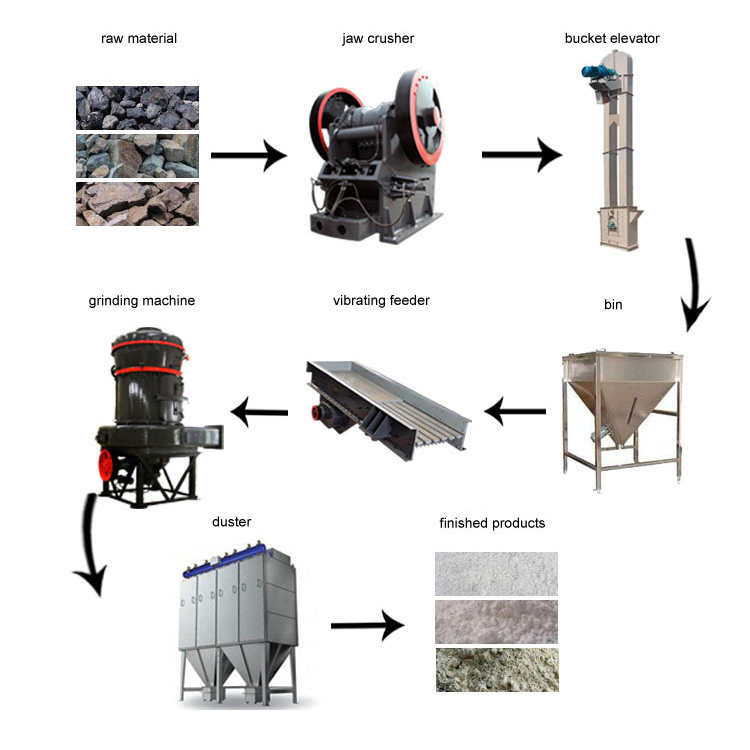 We aslo have gypsum powder coating machine. Provided with the unique chamber, this gypsum powder coating machine is applicable to modify various materials. It is equipped with both the modification and depolymerization function. It has been applied in modifying calcium carbonate, talcum, calcite, limestone, dolomite, carbon black and other ore powder. Its main parts are hooper, conveying device, agent adding system with temperature control, main body, cyclone dust collector and impulse bag dust collector.
The powder modification is mainly completed by three modifying rollers. The dry powder and modified reagents are put into the rollers simultaneously.